We are proud to introduce and be operating out of our brand-new National Distribution Centre in the UK – all our incredible premium garage equipment is assembled, packed and shipped out from this new site.
Our team of engineers have been working hard before, to ensure the efficiency of our operations at this new site. And despite the COVID-19 crisis completely ruining the year for many industries and businesses, the automotive sector has boomed, and our dedicated team has been busier than ever.
Delivering incredible garage equipment across the UK & Europe!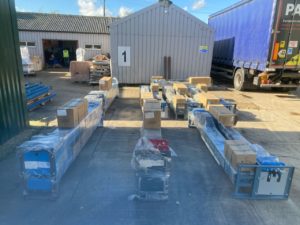 Making sure every piece of tyre fitting equipment is up to the ISN standard, is exactly what our engineers are specialists at.
Fully trained and with years of experience behind them, our team have the ultimate combination to make sure your garage services succeed.
All our garage machines are freshly built on-site and ready to send out to all our customers in the UK & across Europe. No matter where you are located, we are ready to serve your business and offer the same high-quality tyre fitting machines.